Anacyclus Pyrethrum (Akarkara) - Uses and Benefits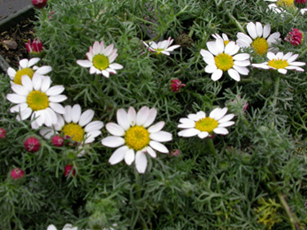 Common names of Anacyclus pyrethrum (Akarkara)
The English name of Anacyclus pyrethrum (Akarkara) is Pellitory and Akarkara is an Indian name of this plant. It is a perennial herb that is much like chamomile in habitat and appearance and hence also known as Spanish chamomile. This plant belongs to the Asteraceae family.
Occurrence of Anacyclus pyrethrum (Akarkara)
This plant is found in North Africa, in the Mediterranean region and other Arabian countries. In India, it is found in North India, in the Himalayas.
Description of Anacyclus pyrethrum (Akarkara)
This perennial plant has numerous stems with downy branches. It is a procumbent herb that resembles chamomile to a greater extent. The stems of this plant lie on the ground for part of their length, before rising erect. Each of the stem bears one large terminal flower with yellow colored disk, white colored rays and tinged with purple beneath. The leaves of this plant are alternate, smooth and pinnate. They are pale green in color with deeply cut segments. The root is somewhat cylindrical in shape and is slightly twisted. The roots are often crowned with a tuft of grey hairs. They are of brown color with bright black colored spots on it. The flowering period of this plant is from April to June.
Cultivation of Anacyclus pyrethrum (Akarkara)
The planting of this plant may be done in autumn, but the best time for the planting is the end of the April. In general, any ordinary good soil is suitable for the planting of this plant. The best results can be obtained when the soil is well drained and of a loamy character and enriched with good manure. The propagation of this plant can be done in three ways, by seed, by division of roots and by cuttings as well.
Ayurvedic Energetics of Anacyclus pyrethrum (Akarkara)
Rasa - Katu
Guna - Ruksha, Tikshna
Virya - Ushna
Vipaka - Katu
Dosha Effect - KV- P+
Dhatus - Majja, Shukra
Srotas - Raktavaha, Shukravaha
Part of Anacyclus pyrethrum (Akarkara) Used
The roots and flower heads are used mainly.
Uses of Anacyclus pyrethrum (Akarkara)
This plant has been used for centuries, in Ayurveda, for various health purposes. This plant is also used as a food spice.
Chemical Constituents Present in Anacyclus pyrethrum (Akarkara)
The roots of this plant contain three fatty acids in it. The chemical analysis shows that they also contain one sterol and ten unsaturated amides. The amides include enetriyne alcohol, pellitorine, inulin, anacycline, phenylethylamide, trans- 4-dienamides, polyacetylenic amides I-IV, and sesamin. Tannins, essential volatile oil and gum are other constituents present in the root of this plant. Pyrethrine, an alkaloid, is one of the active principles.
To buy Akarkara Powder, please visit store.planetayurveda.com/products/akarkara-powder.
Planet Ayurveda's Product that Contains Anacyclus pyrethrum (Akarkara)
Atirasadi Churna
Planet Ayurveda's Atirasadi churna is prepared from the combination of various herbs. Anacyclus pyrethrum (Akarkara) is one of an ingredient in it. This powder supports the healthy male reproductive system. This product is also good for maintaining healthy blood pressure and healthy glucose level as well.
Pack size - Each bottle contains 200 g of powder in it.
Dosage - 1-2 teaspoonful two times a day, with plain water after meals.