Ayurvedic Treatment for Baldness
Baldness is medically known as Alopecia. It is defined as complete or partial hair loss or loss of hair from different parts of the body, especially head.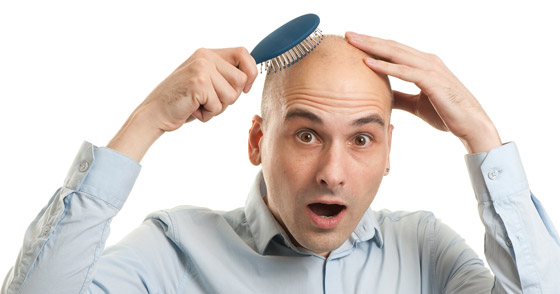 Various Types of Alopecia are:-
Alopecia areata
Alopecia totalis
Alopecia universalis
The severity and degree of baldness varies from person to person and situation to situation. Hair fall is a common phenomenon in every individual, but baldness is common in males.
Causes of Baldness
Nutrition
High consumption of Vitamin A or hypervitaminosis A or iron deficiency or limited consumption of food or too much consumption of animal fats is a major cause of alopecia.
Heredity
Heredity or genetics is a major contributor of hair loss or baldness.
Hormone – Dihydrotesterone
This male hormone has an adverse impact on the hair. Hair follicles tend to deteriorate. Hair becomes thinner, which lead to rapid hair fall and baldness.
Infection
When the hair gets infected with microorganisms like fungus, bacteria and many others, it leads to baldness. Dissecting cellulitis, Folliculitis, Tinea capitis, Secondary syphilis are some of the major infections.
Medicines and Drugs
There are certain drugs, therapies and medicines, which lead to the total loss of hair. This may be temporary or permanent. Steroids, chemotherapy lead to rapid hair fall to a huge extent.
Besides these, there are several other causes too. Pregnancy, trauma, diabetes, inflammation and several hair treatments are some of the causes, which lead to hair fall or loss of hair extensively, which may give rise to alopecia or baldness.
Major Signs and Symptoms of Baldness
Hair thinning
Excessive hair fall
Dermatitis
Acne
Excessive dry or oily scalp
Home Remedies for Faster Hair Growth
1. Grape seed Oil
Massaging the scalp with this oil promotes hair growth.
2. Onion
Add onion paste to the shampoo you apply and let it stand for fifteen days. Then apply the shampoo on the hair. This effectively prevents hair fall.
3. Aloe Vera Gel with Honey
Mix the gel of the aloe vera leaves with some amount of honey. Apply this mixture on the hair to prevent hair loss.
4. Fenugreek Seeds with Curd
This paste when applied on the hair helps to decrease the rate of hair fall. It also brings shine to the hair and makes the hair shiny and hygienic.
5. Rosemary Water
Wash the hair with rosemary water every day. The hair grows at a faster rate.
6. Buttermilk
Rinse the hair with buttermilk at least once in a week. This prevents hair fall.
Herbs for Baldness
1. Ashwagandha
It is a wonderful adaptogen. It helps to fight anxiety and stress. It helps to rejuvenate new hair cells leading to hair growth at a faster pace.
2. Yashtimadhu
This herb is also known as the licorice. It is one of the best anti ageing herbs. It has memory enhancing characteristics coupled with preventing hair fall and enhancing new hair cells growth.
3. Bhumi Amla
It helps to prevent the free radical formation in the body of the individuals. It also increases the metabolic rate of the body flushing out the toxins, thereby preventing premature ageing and hair loss.
4. Brahmi
It is scientifically known as the Bacopa monneiri. It helps to improve the strength and texture of the hair, which helps to prevent baldness effectively.
5. Bhringraj
It is one of the essential ingredients of the hair loss products. It brings in new hair roots, which help to improve the hair growth and hair texture to a large extent.
6. Amalaki
It is better known as the Indian gooseberries. It helps to prevent the free radical formation, thereby, preventing premature ageing, unnecessary hair fall and instead promotes hair growth and helps in maintaining the hair texture and strength to a wide extent.
Herbal Remedies for Baldness by Planet Ayurveda
Planet Ayurveda provides best combination of effective herbal remedies such as Hair Care Pack for ayurvedic treatment of baldness. These herbal remedies are prepared from using best quality herbs and strictly follow the principles of Ayurveda. All these herbal remedies of Planet Ayurveda are 100 percent pure, natural and vegetarian. These are free from chemicals, additives and preservatives. These are safe to use as these are free from side effects.
Dosage / Usage
Go Richh Protein Shampoo - Apply appropriate quantity of this shampoo to wet hair & scalp. Massage in circular motion & rinse well.
Radiant Skin Hair Nail Formula - 2 capsules twice daily, with water.
Hair Growth Formula - 2 capsules twice daily, with water.
Go Richh Hair Conditioner - After shampooing, gently apply along the length of wet hair from base to tip. Leave it for two minutes. Rinse thoroughly.
Go Richh Hair Oil - Apply hair oil every night. You can gently massage the scalp taking around 5-10 ml of oil.
Products Description
1. Go Richh Hair Shampoo
Go Richh Hair shampoo is an effective hair cleanser which cleans the scalp sans drying out. It removes frizz and gives life to dull and lifeless hair. This product has no harmful chemicals and as a result prevents hair loss.
2. Radiant Skin Hair Nail Formula
Radiant Skin Hair Nail Formula is a perfect blend of herbs such as Manjistha (Rubia cordifolia), Pitt papda (Fumaria officinalis), Chirayata (Swertia chiretta) and Ghrit Kumari (Aloe barbadensis). These help you to give bouncy, healthy and beautiful hair along with skin and nails. Herbs are proved beneficial in nourishing hair from the root level and repair broken, splitted and damaged hair. They nourish them and give natural strength and smooth texture. This formula when used regularly, removes dandruff and other impurities from scalp and let hair roots grow more with strong hair. All these herbs are cooling in nature which pacifies the pitta (heating factor) dosha in body which is root cause for all sort of hair problems according to Ayurveda.
3. Hair Growth Formula
This is another excellent herbal formulation from Planet Ayurveda house which is a perfect blend of herbs, Yashtimadhu (Glycerrhaza glabra), Ashwagandha (Withania somnifera), Bhringraj (Eclipta alba), Bhumiamalaki (Phyllanthus niruri), Amalaki (Emblica officinalis), Brahmi (Bacopa monnieri). Herbs are very effective and result giving in hair loss, baldness, premature graying of hair etc. They also take care of underlying conditions which result in damaged hair. They are well researched herbs to improve hair texture, strength and overall health of even scalp too. They penetrate deep in scalp and help to regenerate new hair efficiently.
4. Go Richh Hair Conditioner
Go Richh Conditioner gives soft and bouncy hair with its natural ingredients. A small amount provides a smooth sheen to the hair giving it a healthy appearance. It works best if used after Go Richh Hair Shampoo.
5. Go Rich Hair Oil
This herbal supplement is formulated to take care of all hair problems. It is an amazing combination of various herbs like Bhringraj (Eclipta alba), Amalaki (Emblica officinalis), Bibhtaki (Terminalia Bellerica), Haritaki (Terminalia chebula) and Brahmi (Bacopa monnieri). This herbal supplement is beneficial for both male and female hair problems. Go rich hair oil penetrates the scalp and provides nourishment to hair and clears the dirty particles. It protects the scalp from dandruff, protect hair roots and prevent hair from fungal infections. Split end in female is most seen and this herbal product is used to cure split ends too. 100% natural oil works on our hair without disturbing our body's hormonal mechanism.
To buy Hair Care Pack, please visit store.planetayurveda.com/products/hair-care-pack.
Use these herbal remedies and Ayruvedic treatment and lead a young and healthy life with Planet Ayurveda.