Ayurvedic Treatment for Celiac Disease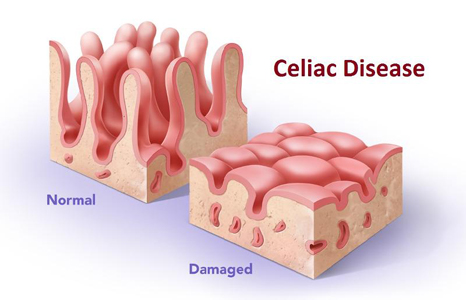 Celiac disease is a digestive related ailment. It is caused because of the damage of the inner lining of the small intestines. The damage is caused because of the dangerous immunological reaction with the gluten, which is present in large quantities in barley, rye and wheat. This results in the swelling inside the intestines, which damage the villi. This leads to poor absorption of the nutrients and minerals by the body of the individuals. This disease is more common in the European regions. The major complexities of this disease lead to under-nutrition and short stature of the adults and stunted growth of the children.
Major Symptoms of Celiac Disease
Weight gain or weight loss
Irritable bowel Syndrome
Abdominal cramps
Constipation
Anemia
Joint pain
Depression
Weakness
Fatigue
Irregular menstruation
Delay in puberty
Discoloration of the tooth
Enamel loss
Stool with foul smell
Herbal Remedies for Celiac Disease
To treat this chronic disorder, Planet Ayurveda provides the best combination of effective herbal remedies for Ayurvedic treatment of Celiac Disease. These supplements are completely vegetarian and natural. They do not impose any side effect. They do not have any artificial binders as well. They are free to use and highly useful in providing relief from the various symptoms of Celiac disease. These medicines promote internal cleaning of the body, which serve to tone the parts of the colon. The natural ingredients of the herbal medicines of Planet Ayurveda help to get rid of the disturbances created by the digestive system of the body. It also enhances the absorption of the nutrients by the body. Also, it helps to avoid the various symptoms of this disease.
Curcumin is derived from the extracts of the turmeric herb. Turmeric has a lot of pharmaceutical properties. It helps to treat the various digestion related disorders, diarrhea, colon inflammation, cancer. It is very advantageous to treat celiac disease and other health related disorders. These form the best medicines for treating the Celiac Disease.
This medicine has many unique Ayurvedic herbs. Neem, haridra, Ashwagandha and Shirish are the constituent herbs of this medicine. The herbs have anti-inflammatory and anti-allergic characteristics. The ingredients remove the toxins from the body. It helps to get relief from Celiac disease. Also, the capsules treat allergies, asthma, sinusitis and rhinitis as well.
This herbal supplement has many herbs. These include haritaki, amla, bahera, cumin, fennel, piper and dhania. These herbs work together to remove the symptoms of Celiac Disease. The capsules remove the excess Kapha from the intestines leading to a healthy colon. The supplements also control gas, acidity, flatulence and several others.
Apart from these ayurvedic treatment, the patient must always consume gluten free diet. All food items, which are made up of rye, barley or wheat shall be avoided.