Ayurvedic Treatment for Endometriosis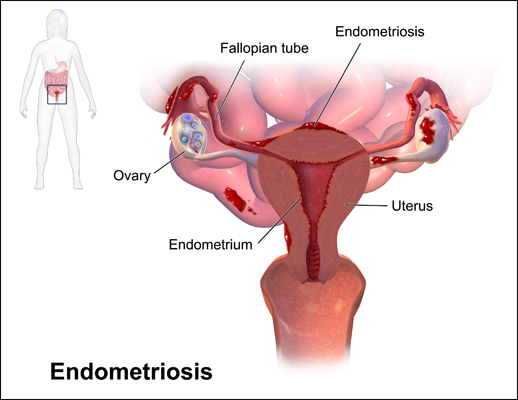 About Endometriosis
The ailment where the endometrial tissue is found on the outer part of the uterus or womb is termed as endometriosis. This stays between the lower part of the stomach or abdomen and the pelvic area. This disease does not spread on other parts of the body. This disease mainly occurs in the endometrial tissue that is accountable for lining the walls of womb. It is completely a feminine disease and has very mild indications. It is observed only when the symptoms get severe or painful. The causes of this disease includesurgical implantation and weak immune organization of the body. Apart from these improper menstruation periods and embryonic cells also cause the problem of endometriosis. The symptoms of the disease are light but they are painful in some cases. The symptoms comprise painful sexual intercourse and painful menstrual cycles. In some cases, blood and pain may occur while passing the urine and faeces. These conditions and symptoms occur in endometriosis.
Complications of Endometriosis
Sterility - The most common complexity that occurs in this disease is sterility or infertility. Women having the problem of endometriosis face troubles in getting pregnant. They also face painful sexual interaction. To prevent this situation the women are instructed to have children before the complexity actually arrive.
Tumor - both women who are suffering and who have suffered from endometriosis fall in the risky area of developing ovarian cancer.
Herbs for Endometriosis
There are a Lot of Herbs, which Help to Treat Endometriosis. They are Explained Below:-
Haridra - curcuma longa is the name of Haridra in science. It has natural properties that provide relief in inflammation and paining pelvic areas. It also treats abdominal pains.
Lodhra - symplocos racemosa or lodhra has the capacity to treat late or uneven menstrual cycles. It also relaxes the pain that occur during menstruation and other problems related with the disease.
Shallaki - the name of this herb in scientific language is boswellia serrata. It contains bosewellic acid, which is helpful in suppressing the overgrowth of inflamed tissues in the human body.
Ashoka - the bark of Ashoka tree is used in the medication of endometriosis because it keeps the menstruation cycle on track and removes premenstrual disorders. The scientific term of this herb is saraca indica.
Aloe Vera - This herb improves the immune power of the body, as it is an adaptogen.
Shatavari - the other name of this herb is asparagus racemosus. This herb is mood swinger and increases sexual hormones. It also reduces the symptoms of the disease.
Udumbur - this herb treats many disorders related to women apart from endometriosis. Udumbur is called as ficus glomerata in scientific language.
Arjuna - it is best natural medicine for stress and tension and is an effective way to prevent endometriosis and its problems. The scientific name given to this herb is terminalia Arjuna.
Herbal Remedies for Endometriosis by Planet Ayurveda
Planet Ayurveda offers best combination of effective herbal remedies such as Endometriosis Care Pack for ayurvedic treatment of endometriosis. These herbal remedies are manufactured from 100% pure and natural herbs; without the use of any chemicals, binders, fillers, colors, yeast, starch, preservatives or additives. These herbal remedies are prepared under the supervision of renowned Ayurveda experts.
Dosage
Female Health Support - 2 twice daily after meals with water.
Aloe Vitals - 1 twice daily after meals with water.
Pradrantak Churna - 1 teaspoonful twice daily.
Shatavari Capsules - 2 twice daily after meals with water.
Boswellia Curcumin - 2 twice daily after meals with water.
Products Description
1. Female Health Support
The contents of these capsules are completely ayurvedic. Herbs used in the making these capsules are Ashoka, Lodhra, and Shatavari. These herbs are the finest medicine for generative system and complications related to it. This product provides consistent result in the symptoms of female disorders.
2. Aloe Vital Capsules
These capsules are equal to its real pulp, it is a regular antioxidant. This capsule frees the toxins present in the digestive organization. It upholds the pH level in the human body and is sterile. It treats irritation and relieves the skin.
3 Pradrantak Churna
It is the best herbal remedy which treats women related disease. It benefits in immense pain and variable menstrual cycle. The herb Saraca indica present in it stabilizes the hormones in body. It is a flawless herbal medicine for elimination of pain from the human body.
4. Shatavari Capsules
Shatavari is an herbal drug that perfectly performs on the complete fitness of women. It is beneficial in increasing libido in females without any cross effects.
5. Boswelia Curcumin
Boswellia curcumin is an herbal product by Planet Ayurveda that has shallaki and curcumin as their main fraction and they are famous for their activities and efficiency. They are anti-inflammatory and provide break in joint troubles. These herbs also increase the flow in the joints and fuel health conditions.
To buy Endometriosis Care Pack, please visit store.planetayurveda.com/products/endometriosis-care-pack.
Home Remedies for Endometriosis
Flaxseed - these seeds are full of omega 3 acids and antioxidants. The contents of flaxseeds are helpful in demoting the growth of unwanted endometrial tissues.
Curcumin - its common name is turmeric and it is a famous anti- inflammatory agent. Turmeric is an herbal and great spice prevents the symptoms of endometriosis.
Hot Water Bath - the painful areas of the body can be relaxed by taking hot water baths. It is a slow but effective method of reducing the symptoms.
Workout- to keep the muscles fit and healthy workout is to be included in the daily routine. It relaxes the muscles and is an effective way to cope with endometriosis.
Warm Gauzes - pelvic muscles can be relaxed using this mode. It decreases pain and muscle cramps of the affected part and helps in other painful areas of the body too.
Massage - massaging the pelvic and abdominal parts of the body using oil provides relief in the disorder. It is helpful in removing pain from these areas. Endometriosis is a curable disease if one notices its symptoms at an early stage. Both the treatments are available for endometriosis that is allopathic and ayurvedic. Nevertheless, the ayurvedic treatment is the best and the safest way to cure this ailment.