Ayurvedic Treatment of Piles (Hemorrhoids)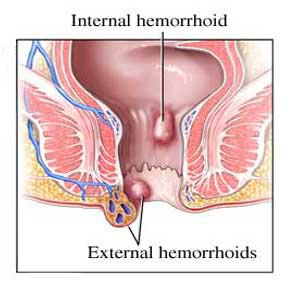 About Piles (Hemorrhoids)
Dilated veins around the area of the anal opening and the rectum are defined as Piles. Collection of the veins inside the rectal region leads to the development of the pile mass. The excess pressure exerted on the pile mass due to longer sitting habits and constipation, piles are developed.
Piles are Mainly of Two Types:-
Bleeding piles - These lead to the regular blood loss from the body. This also results in dizziness, anemia, psychological and physiological weaknesses.
Non bleeding piles - These do not bleed, but cause pain and discomfort.
Piles are Also Classified According to the Location:-
Internal piles - these take place in the anal canal and bulge out.
External piles – these occur right on the skin of the anal opening.
Some of the major causes of hemorrhoids/piles, which lead to the discomfort due to piles are discussed here under.
Major Causes of Piles (Hemorrhoids)
Obesity
Heredity
Constipation
Low fiber content diet
Age
Standing or sitting for longer periods
Sexual intercourse
Pregnancy - The growth of fetus in the mother's womb creates a pressure on the rectal region leading to piles formation.
Accumulation of fluid in abdominal cavity
Symptoms of Hemorrhoids/ Piles
The symptoms of piles generally disappear within a few days. But, the situation may be uncomfortable and painful.
Some of the Symptoms are Given Below:-
Bulges around the rectal area
Bleeding during passing of the stool
Soreness and redness around the anal region
Itchiness
If the treatment of the piles is not done in time, this leads to chronic situations like excess bleeding, anal fistula, infection, anemia, rarely incontinence and gangrene.
Herbs to Treat Piles
Many herbs are there, which treat the hemorrhoids effectively. Zingiber officinale, Amorphophallus campanunlatus, Mimosa pudica, Mesua ferrea, Berberis aristata, Terminalia chebula, Terminalia belerica, Plumbago zeylanica and Emblica officinalis are used widely for the reduction of the congestion and inflammation of hemorrhoidal veins, hindering the bleeding and easing the bowel movements. Besides, these herbs, it is highly important to follow a strict dietary regime to avoid in the recurrence of hemorrhoids or its symptoms.
Home Remedies for Piles
The piles can normally be treated only by following a proper fiber rich diet regime and modifying the lifestyle accordingly. Some of the natural home remedies to heal piles (hemorrhoids) naturally are given below:-
Intake of diet rich in Fibrous material
Consumption of excess of water
Consumption of More and More Bioflavonoids
Have Extracts of Butcher's Broom
Dip in Warm Sitz Water Bath
Apply Ointment and Oil
Applying Certain Herbs
Herbal Remedies for Piles (Hemorrhoids)
Planet Ayurveda provides best combination of effective herbal remedies such as Piles Care Pack for ayurvedic treatment of piles (hemorrhoids). These herbal remedies are prepared from using best quality herbs and strictly follow the principles of Ayurveda. All these herbal remedies of Planet Ayurveda are 100 percent pure, natural and vegetarian. These are free from chemicals, additives and preservatives. These are safe to use as these are free from side effects.
Dosage / Usage
Sanjivani Vati - 2 tab three times daily with plain water after meal.
Vara Churna - 1 tsp. twice daily with plain water after meal.
Pile OFF Capsules - 2 cap twice daily with plain water after meal.
Kanchnaar Guggul - 2 tab three times daily with plain water after meal.
Drift Ointment - Local application on the affected area.
Nirgundi oil - Local application on the affected area.
Products Description
1. Sanjivani Vati
It helps to treat the problems related to faulty body metabolism and is highly effective in treating the piles. It helps in burning the accumulated metabolites.
2. Vara Churna
This is also known as the Triphala Powder. It is a perfect blend of amlaki, haritaki and bhibhitaki. It helps to treat several digestive disorders, like constipation, acidity, piles, etc.
3. Pile off Capsules
These capsules help to eradicate pain and stop bleeding. The herbal supplement relieves itchiness and pain and shrinks the pile masses completely.
4. Kanchnaar Guggul
This herbal supplement is made up of triphala, trikatu, kachnaar, guggul and many other herbs. It helps to shrink the growth of pile masses and is a useful Ayurvedic herbal remedy.
To buy Piles Care Pack, please visit store.planetayurveda.com/products/piles-care-pack
Follow the natural treatments, herbal remedies and use these effective Ayurvedic supplements of Planet Ayurveda and get rid of the painful discomfort of the piles or hemorrhoids effectively and enjoy a healthy life.