Home Remedies for Common Cold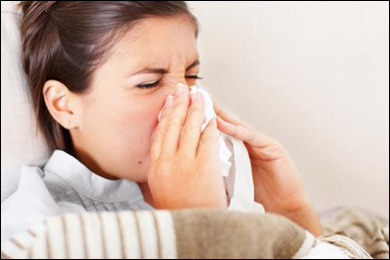 What is Common Cold?
The common cold is the viral infection which affects the upper respiratory tract. It's also known as acute coryza which causes inflammation in the upper respiratory tract. It is the most often than any other disease. This disease is caused by rhinoviruses or coronaviruses. Common cold is a contagious disorder which can easily spread through air droplets from a cough, sneezes and by touching infected person or surface. Most of the people recover from common cold within a week or 10 days but if it persists for more than 10 weeks than you should concern your doctor.
What are the common symptoms of a common cold?
Dry Throat
A Cough
Sneezing
A Mild Headache
Shivering
Blocked Nose
Reduction in Appetite
Running Nose
Fever
What are the main reasons behind the common cold?
Viruses are the main reasons behind the common cold such as rhinoviruses. These viruses enter your body through mouth, nose, and eyes. Sudden changes in temperature is also a vital factor which cause the common cold.
Dust and other irritating allergens also cause the common cold. Due to its contagious nature, it spreads by hand to hand contact with people who are already infected with a common cold.
Use of contaminated utensils, clothes, towels, and other things are also one of the reasons behind the common cold.
Home Remedies for the common cold
Instead of taking antibiotics, you should recover yourself by home remedies that can be very well managed at home.
1. Galic
Garlic contains very good medicinal properties such as antibacterial and antiviral activities, which protect the viral infection during a common cold. Allicin is a potent bioactive compound in garlic which has anti-viral activities against rhinoviruses and other viruses which are responsible for the common cold. Garlic has also a natural antiseptic and antispasmodic properties which also provide prevention from symptoms of common cold.
Mix one clove of garlic paste, one teaspoon honey, ½ teaspoon of cayenne pepper. Consume this mixture daily until symptoms are not gone.
You can also add chopped garlic clove in your salad
Boil 4-5 clove of garlic in one cup of water for 5 minutes, add few drops to honey to it. Drink it 2-3 times a day. Prefer lukewarm.
2. Ginger
Ginger is another home remedy for common cold, cough, and fever. Ginger contains a bioactive compound named as gingerol which shows powerful anti-inflammatory and antioxidant properties. Due to these properties, it helps in treating symptoms of common cold. Ginger keeps your body warm. Antiviral, anti-inflammatory and expectorant properties of ginger inhibit the viral infection and reduce the further development of common cold symptoms. For making ginger tea:
Boil one tablespoon of chopped ginger in one cup of water for 5-10 minutes on low heat. Strain and add few drops of honey to enhance its effects.
Drink it 2-3 times in a day.
You can also try a paste of ginger, garlic and little salt. Eat it 2 times a day.
3. Black pepper
Black pepper is known as King of Spices. It has lots of health benefits due to its great medicinal properties. Piperine is the main bioactive compound in black pepper which shows great therapeutic properties. The herb shows antioxidant, antimicrobial and gastro-protective properties, which are also good for reducing cough, sneezing, and any viral infection. Black pepper is easily available spice in every Indian kitchen which provides natural treatment for various symptoms of common cold.
Mix one teaspoon of black pepper in one glass of warm water, gargle with this mixture two times a day.
You can also add this spice to your daily meal.
4. Turmeric
Turmeric is one of best herb for the treatment of various body ailments. It's a very strong antioxidant and anti-inflammatory compound. Which helps to bring down the inflammation. Turmeric also helps to strengthen the immune system by killing the various viruses and bacteria which causes the common cold. There is a bioactive compound in turmeric known as curcumin which has very good medicinal properties and helps to treat headache, coughing and body aches.
Mix and boil the ½ tablespoon of turmeric powder in one glass of milk. You can also add ginger powder to it.
Cool the milk at room temperature so that you can easily drink it.
Try to drink this milk 2 times a day, especially before going to sleep.
5. Cinnamon
Cinnamon has been consumed from centuries as a spice. It has many health benefits. This herb is loaded with a number of antioxidants, and anti-inflammatory compounds which show great effects on the common cold. Cinnamaldehyde is the major chemical constituent of cinnamon bark which is also very effective in reducing the symptoms of common cold.
Mix and boil one teaspoon of cinnamon powder and 2 cloves in 2 cups of water for 10-15 minutes.
Strain and drink it while it is still warm.
6. Vitamin C rich fruits (oranges, kiwifruit, and amla)
Indian gooseberries are the rich source of vitamin C. Vitamin C improves the glucose metabolism of your body and also helps the body to produce a signaling chemical for your nervous system. Vitamin C also strengthens your immune system and also relieves the symptom of a common cold. You can easily get vitamin C from the various natural sources which we are mentioned above.
Take 2-3 amla and cut them in small pieces, you can eat them in raw form or make juice of amla.
Drink this juice two times a day.
Including all these home remedies you can also use bitter gourd roots, mullein tea, and red onion for the common cold treatment. These are very effective home remedies.