Herbal Remedies for Hyperthyroidism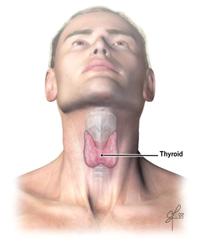 Hyperthyroidism is a condition in which the thyroid gland makes excess of thyroid hormone. It may occur when the thyroid releases too much of its hormones over a short or long period of time. Due to increased body's metabolism, patients may feel hotter and may slowly start losing weight and even though they may be eating more. Most patients with hyperthyroidism usually experience fatigue and have trouble sleeping. Irregular heartbeat or trembling of hands may develop in some patients on account of hyperthyroidism. The cause of hyperthyroidism can be due to getting too much iodine, Graves's disease, inflammation (thyroiditis), non-cancerous growths of the thyroid gland, tumors of the testes or ovaries etc.
Symptoms of hyperthyroidism may include difficulty concentrating, fatigue, frequent bowel movements, visibly enlarged thyroid gland or goiter, heat intolerance, increased appetite, increased sweating, irregular menstrual periods in women, nervousness, restlessness, weight loss etc. Other symptoms that can occur with this disease include breast development in men, clammy skin, diarrhea, hair loss, hand tremor, weakness, high blood pressure, itching, nausea, vomiting, protruding eyes and heart palpitations.
The treatment of hyperthyroidism depends on the cause and the severity of symptoms. Hyperthyroidism is usually treated with antithyroid medications, radioactive iodine and even surgery to remove the thyroid gland. Hyperthyroidism is a hormonal imbalance and it requires immediate medical treatment. Herbal treatment for hyperthyroidism can be used in conjunction with allopathic medicine.
The herbal remedies are gaining popularly and most frequently used for the treatment of hyperthyroidism. According to herbalists, certain herbal treatments may help to suppress the release of thyroid hormone and control some of the symptoms associated with mild thyroid disorders. The natural herbs are useful to improve the symptoms of disease and also useful to restore function, boost energy and healthy body for good quality of life.
As per Ayurveda, hyperthyroidism results from an imbalance in the body's doshas which govern the body's constitution. The herbal treatment is used to strengthen the nervous system which helps to heal the immune and endocrine systems.
Herbal Remedies for Treatment of Hyperthyroidism
Planet Ayurveda offers best combination of effective herbal remedies for ayurvedic treatment of Hyperthyroidism.
Dosage
Shatavari Capsules - 2 capsules, two times a day, with plain water, after meals.
Immune Booster - 2 capsules, two times a day, with plain water, after meals.
Weight Gain Formula - 2 capsules, two times a day, with plain water, after meals.
Products Description
1. Shatavari Capsules
Shatavari is a wonderful herb that provide strength to the body that occurs due to hyperthyroidism. It also provides stamina by boosting internal organs. It nourishes tissues in the body and let fight the various symptoms of the condition like fatigue, weakness, debility, hair thinning, dryness etc.
2. Immune Booster
Immune Booster from the house is a great Ayurvedic medicine for hyperthyroidism. It is an excellent one to maintain a healthy immune system. Each Immune Booster capsule contains the combination of four ingredients. These ingredients include Grape seed (Vitis vinifera), Cow colostrums (Bovine coloustrums), Bhumi amla (Phyllanthus niruri) and Amalaki (Emblica officinalis).
3. Weight Gain Formula
Another effective herbal product from the house is the weight gain capsules. As weight loss is a primary symptom of this disorder, the house offers an excellent product to gain weight naturally. This product is weight gain capsule. The name of the product is sufficient to give us its health benefits.
To buy Hyperthyroid Care Pack, please visit store.planetayurveda.com/products/hyperthyroid-care-pack