KOTTAMCHUKKADI THAILAM, HERBAL MASSAGE OIL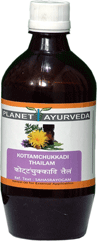 Ref. Text - ( SAHASRAYOGAM )
Action : For all rheumatic complaints with Swelling and pain.
Indication : Rheumatoid complications, Oedematous condition.
Applications : Vata disorders with Kapha imbalance, Supthangatha ( Numbness)Sopham ( Oedema ), Muscle cramping.
Indications & Uses
Note : External use only.
Usage : For external application.
Sale Price
For Price Quote Kindly Mail Us at - [email protected]
Packing Size
200 ml. Herbal Oil in Pet Bottle.