Parsley (Petroselinum crispum) - Herbal Remedy for Menstrual Disorders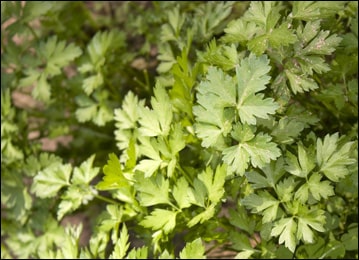 Botanical Name - Petroselinum crispum
Family Name - Umbelliferae
Other Name - Parsley
Uses of Parsley
Diabetes
Lack of craving
Indigestion
Gall stones
Kidney stones
Menstrual problems
Urinary disorders
Sore
Inflammations
Skin conditions
Blood pressure
Cancer
How to Use in Different Diseases?
Parsley leaves is useful for diabetes.
It stimulates and strengthens the digestive system, easing flatulence and indigestion.
It is also useful for lack of craving.
It is helps to expel gallstones and kidney stones.
It acts as diuretic and hence useful for urinary disorders.
Parsley Leaf to treat stimulates menstruation.
An ointment is beneficial for sore, swelling and other skin conditions.
Parsley tea is useful for blood pressure.
Parsley has been used as a cancer preventative.
Parsley has been used for ailments of the liver and is a good tonic for blood vessels, capillaries and arterioles.
Parts Used
Leaf and whole plant
Dose
Tea - 2 to 4gm
Ointment - Twice daily
Preparations
Tea, Ointment